I am currently based out of Mentone, Alabama at the new Nehemiah Teams Training Center. We're about 50 minutes Southeast of Chattanooga, TN up on top of Lookout mountain.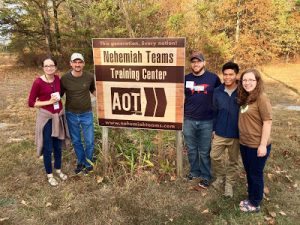 My journey to get here actually started about 6 years ago. In April of 2011, I decided to go to the Passion Conference. They had a satellite conference in Fort Worth, TX that year. That April, God planted a desire in my heart for the lost and for the nations. I was moved by the example of what it looks like to have a brokenness for the lost through the prayer of Francis Chan before he spoke. It was hard not to recognize that he truly wanted unbelievers to come to a saving faith in Jesus Christ and I wanted to have that same passion and desire. I wanted to be a part of what God is doing to bring the nations to himself. So, I prayed that God would give me a brokenness for lost. I don't remember much else from the conference or what the sermons were specifically about but I remember leaving the conference with my mind just melted. The trajectory of my life was altered and I had no idea what to do or how to process everything I had heard. I felt like I was trying to catch a waterfall with a Dixie cup, especially after hearing John Piper preach. I had a lot to think about while riding my motorcycle back to College Station.
The next step in my journey didn't take place until the next time I went to Passion in January of 2012. This time I made the 13 hour drive to the Georgia Dome in Atlanta. It was at this Passion that I saw a video of a missionary to the Mouk people of Papua New Guinea and I saw how the people rejoiced after hearing that Jesus rose from the dead conquering sin and death and that they could have forgiveness for their sins. I wanted to be a part of bringing the Gospel to the unreached and hard to reach, because there is no joy or hope in life apart from the Gospel. I wanted to be used by God to bring the good news of the Gospel where few or no people have ever heard. The reality is that there are 2,629 people groups who have never heard the Gospel and no one is there to tell them. They are classified as unreached and unengaged. That means there are no known believers and no one is going there to share the Gospel with them… 2,629!
In Scripture, Jesus tells Thomas, "I am the way, and the truth, and the life; no one comes to the Father but through Me." (John 14:6 NASB) Paul says, in Romans 10:14, "How then will they call on Him in whom they have not believed? How will they believe in Him whom they have not heard? And how will they hear without a preacher?" He says in the verse before, in Romans 10:13, "for "Whoever will call on the name of the Lord will be saved." He is expounding on a prophecy about the Day of the Lord given in Joel 2:32 that those who call on the name of the Lord, both Jew and non-Jew, will receive salvation from judgement. If no one will go the unreached and hard to reach, these people will die without hope. They will go to Hell because they have not believed and they can't believe yet because the church has not gone far enough. So, how then can I stay?
I decided that if I'm feeling a burden for cross-cultural ministry overseas, I wanted to make sure it wasn't just my adventurous nature seeking a new experience. Having already served for four years in the Marine Corps, I knew that there is a difference between knowing about something and really going through it. I wanted to make sure I knew what I was getting myself into, so I looked on the IMB Students website to find a difficult summer long trip for the summer of 2012. There, I found the request for the Bushmen Challenge in South Sudan. The word "Challenge" was already in the title, so I knew I was on the right track. The request description went as follows:
"With only a GPS to guide you and a satellite phone to connect you, you will live in the African bush for two months. Your mission is clear and crucial: share Jesus with those who will listen and make disciples in a hard to reach place. Only those who are prepared both physically and spiritually should apply."
Bingo! I found my trip. God stretched me a lot that summer.Our team started with eight guys and we finished with six! Two guys had to leave due to injuries. Ask me sometime and I'll tell you that story! We also had two of our remaining six guys get amoebic dysentery, one guy had bot flies lay eggs in his shoulder and was stung by a scorpion, and I had flu like symptoms for a day! I also lost 38 pounds and I could tell you many other stories from that summer, but I'm trying not to drag this post out forever! If you want to read more, visit my blog from the summer at: backcountryevangelism.blogspot.com It was only by God's grace, provision, and strength did I make it back that summer and I still had a desire for preaching the Gospel overseas. This was a defining moment in my life, because I went to a hard place where you cannot fake a commitment to the Lord and I still wanted to serve Him. God confirmed His calling for my life.
The organization I went to South Sudan through was Nehemiah Teams. Since then, I have been volunteering for about a week each May with Nehemiah Teams during their orientation. I helped train and prepare other teams of college students heading to South Sudan. In January, Nehemiah Teams started an exciting new program called Advance Operations Training (AOT), which will be a semester long program to disciple, develop, and deploy this generation to help finish the Great Commission!
This has been the Journey God has brought me on so far and I'm so thankful for it!
[subscribe-by-email-form autopt="true"]