I wanted to tell y'all the story of how God brought Wallis and me together.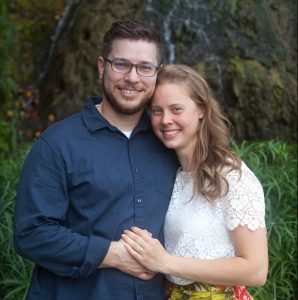 Here's my side of the story:
This past December, 2016, I was home for a while before starting my new job with Nehemiah Teams as a discipleship trainer. One Sunday morning, I visited the missions booth in Unity Hall at FBC San Antonio to talk with Larry about what I would be doing with Nehemiah Teams and I remember seeing Wallis and thinking to myself, "wow, she's pretty!" I had known of Wallis for a while because of her prayer card on my parent's refrigerator, but we had never been in the same place at the same time until this past December. With an encouraging nudge from one of my best friends, Jake Taylor, I decided to ask Wallis out on a "mission's meeting" lunch date to hear her story, heart, and passion for missions. I might be going to hard places for the sake of the gospel, so I wanted to get a feel for her commitment and dedication to serving the Lord before I decided to pursue a relationship with her. After getting to hear her love for the Lord and seeing her dedication to serving Him, I thought to myself, "wow, I'm going to have to run to keep pace with her! I like her!" So, we went on a coffee date before the Christmas Eve service and we continued texting while she was out at her uncle's ranch in East Texas and flying back to Romania. December 28th, I asked for her permission to ask her father if I could date her. New year's day, I talked with Larry and received his permission. We were officially dating! We kept communicating through texting, talking on the phone, and Skype and going through a book called 101 Questions to ask before getting engaged. The book was suggested by Jake because he said it makes you ask important questions. I didn't want to spend a lot of time pursuing Wallis if we didn't agree with some important things. It didn't take long before I realized that I wanted to marry this girl. However, we had only spent a very short time together in person, so I went to visit her in Romania during my Spring Break vacation. It was an awesome week and it was hard to say goodbye. After coming back home, I knew I wanted to ask her to marry me so I started to brainstorm how, when, and where I could do it. So, I asked her to come with me and my family on our family vacation to Lake Tahoe in May. Then, on Thursday, May 11th, when we were home together in San Antonio, I took Wallis on a date to the Japanese Tea Gardens in Breckenridge park and asked her to marry me!
Here's Wallis' side of the story:
I came back to America on furlough from my home in Romania at the end of last November as a very content single woman…not at all interested in meeting a man. However, because several other missionary families were also on furlough at First Baptist, San Antonio during that month, I was very interested in visiting with all of them to learn what I could from their ministries around the world. So, when Tyler came over to the missions booth I was helping Dad with to share about his new job as a Discipleship Trainer with Nehemiah Teams, I tried to hear what he had to say. I was very interested in hearing the curriculum that they would be teaching in discipling these student missionaries. But, when Tyler began explaining what he would be teaching, someone else came up to visit with me and I missed everything he had to say! I had heard about him before and knew his parents already (his mom is my dad's secretary!) but God had apparently prevented us from meeting until just the right time!
Several weeks later, he came into the missions area with his mom. I walked up and began talking to her. Then, as she left for Sunday School, Tyler and I started talking. We both knew that the other was committed to overseas missions so that was naturally the topic of conversation. I asked him about what he would teaching at Nehemiah Teams. Unfortunately. he gave me a very unsatisfying answer that was way more general that I wanted…however, he asked me to lunch later that week to talk about missions! I was surprised that I opened my mouth and said yes!
During my last week in San Antonio, Tyler took me to "missions lunch" and we visited for several hours about just that! I was very impressed with the journey that God had brought him on, his passion for the lost, his desire to reach the unreached, his pure heart, and the similarities of what God had taught us. But I still was very hesitant about the idea of a long distance relationship. God worked it out for us to have another coffee date before I left and I was once again even more impressed by his heart, thoughtfulness, and gentle spirit.
So, after talking more while I was in East Texas, I was willing when he asked me if he could talk to my dad about dating me. I realized that this man was definitely worth giving a chance!
Long distance isn't easy but it meant that our conversation was deep and we covered all of our "deal breaker" subjects pretty quickly. It wasn't long before I knew that this was the man I wanted to marry! God has confirmed His will in so many sweet and wonderful ways over these past few months! After Tyler's visit to Romania in March, neither of us had any doubt! My precious family in Romania had mixed feelings, knowing that the continuation of this relationship would mean moving away, but they were impressed with the character of the man who had stolen my heart.
Tyler invited me to join him and his family on vacation in May so I planned a trip to visit him. I knew already that he was planning to propose but, because of our shared love for the outdoors, I kind of thought that he might plan something while we were in the mountains for the week. I was unsuspecting when he took me on a date to the Japanese Tea Garden on Thursday. After walking around the gardens, we stopped at the end of one of the bridges. Tyler dropped on one knee and asked me to serve the Lord together with him! Of course, I said yes!
Then he gave the signal and all the hidden family members, as well as my best friend (and the secret photographer) came out! It was so special that he planned the proposal for all of them to be able to be a part of it! I cannot wait to serve the Lord with Tyler wherever He sends us. I know that both of us will be able to serve Him better together than we would be able to apart.